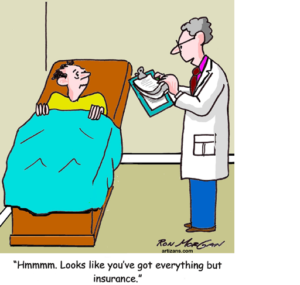 APEX Urgent Care Clinic treats walk-in patients of all ages even without insurance. No insurance? No problem for us![/caption]
You may be aware that you no longer are required by law to carry health insurance. But what happens if you get sick? Without insurance, you may be afraid that you cannot afford the cost of your healthcare. At APEX Urgent Care Clinic, we offer a discounted price for patients looking to get an up-front discount for an office visit or procedure. Cutting out the insurance company middle-man saves us money and we pass that savings down to you! Our prices are the lowest around, so you don't have to break the bank to get well when you feel sick.
Even insured Americans are carrying a heavier cost burden in the current health care environment. With higher deductibles and higher copays, insured patients will often opt to pay the Self-Pay Discount option, with the understanding that the bottom line price of the insured visit is more than the Self-Pay Discount price. The smart and savvy shoppers who choose Urgent Care over the much more expensive Emergency Rooms and Emergency Hospitals have been using cash pay discounts for years, and you can too!
It may be tempting to go without health care entirely when you are without health insurance, but you don't have to sacrifice your health to save. With the flu season this year hitting families harder than in recent years, the health of you and your family is definitely worth the price of an office visit. Let APEX Urgent Care Clinic and our discounts for no-insurance patients help you into both a healthier body and healthier bottom line.